This morning I overslept a a little bit. I had 45 minutes before I had to be at work, so I was going to have to work fast. After brushing my teeth, washing my face, and putting on moisturizer, I slid into a pair of skinny jeans, cuffed them up a la capris,and threw a menswear-inspired button down over it. Tan sandals completed the look and I still had 5 minutes before I needed to catch my bus. I looked in the mirror. Good hair day, but my face looked dull and tired. That's when I employed my new go-to summer beauty routine. It's fast and keeps you looking polished and stylish all day long.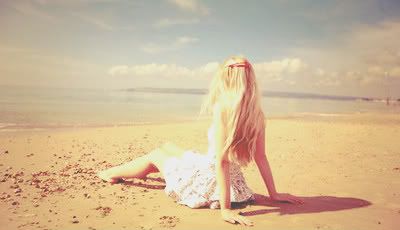 1. It all starts with powder. Too Faced Invisible Powder always does the trick for me. Keeps the shine away and can conquer the sticky feeling that usually goes hand in hand with Chicago mugginess.
2. Next, Coralista by Benefit gets brushed on the apples of my cheeks.Without reloading the brush, I dust a little on my forehead, nose, chin - anywhere the sun would naturally hit - immediately after. Any coral blush will do. Just make sure it's not too pigmented and looks natural on your skin tone. Nothing like a little bit of blush to give you some healthy color.
3. It's time for eyeliner. Lately I've been using Stila Kohl Liner in Tiger's Eye, but I feel like kohl might not be the best call. MAC Eyeliner in Industrial is a recent favorite. Going for a steely blue is always a good bet. A little on the lower lash and a little on the upper.
4. There's no need for heavy eyeshadow. Apply Urban Decay Eyeshadow in Sellout almost like a highlighter.
5. Smashbox O-Gloss looks pink and playful when slathered on lips. The color being not as natural-looking as the rest of your makeup is just fine. There's a balance and it makes you look more than just wide awake. It makes it look like you actually put thought into your appearance.
5. Last but not least, curl those eyelashes and get out the door. Unless it's a special ocassion, I tend to pass on mascara. I find it to look too dramatic for daytime and not using it cuts a fair amount out of my routine. For a lot of people, the too-dramaticness is not the case, but when matched with the way I usually do my eyes, mascara looks out of place.
I've been at work for quite some time now and my makeup is still holding strong. Of course looking like you're awake doesn't necessarily mean you feel that way. I'm all about iced vanilla lattes to take care of the rest. Alriiiighty. Have a wonderful weekend. Muwah!
images via We Heart It