There are always random clothing items that I find myself fundamentally opposed to. Sometimes it's with good reason (leggings? crocs? keep them away), but sometimes I throw my stamp of disapproval on something that really doesn't deserve it. Enter the denim dress. I always thought it was a little too country, maybe a little bit trashy. I associated it with that whole concept of the "texas tuxedo." Double denim? Gag me. Denim, I always thought, belonged only in your jeans and nowhere else. But around April, I came across this photo of Behati Prinsloo at the opening of the Victoria's Secret PINK store in SoHo. My feelings towards the denim dress were about to be changed forever.
After seeing the picture on
Fashionista.com
, I decided that maybe the denim dress wasn't such an awful thing, after all. Behati here mixed it up with a pink hoodie and white jacket to great success. It's a look that's playful and girlish. Who doesn't want to convey that sort of attitude in their clothes? I am finally the adoring owner of a similar frock, and I would highly recommend that you also give the denim dress a try. So, with the aid of a fairly adorable piece from Forever 21, here are three ways you can mix up your denim dress.
Keeping it simple.

I am a huuuuuge advocate of the long cardigan in a neutral color. Throw it over anything and your outfit suddenly looks like you put a lot more thought into it than you really did. When done in black over a dress, the long cardigan can also add a casual-yet-polished feeling to the entire ensemble. I love the effect it has on the denim dress. Something that could go dangerously in the direction of country is given a bit of a modern, city edge. I threw in a pair of black riding boots, because they can add so much to any outfit, and would also recommend the use of black, patterned tights. A headband, in a different neutral shade, gives the overall look a feminine kick.

For your more playful side.


Any blazer would do, really, but I think one in a girly color with a playful print mixes with the denim dress to a meadow-frolicking effect. It doesn't even have to be a a blazer. A cardigan with the same cutesy idea would suffice, too. The concept we're going for is something that wouldn't look out of place at a picnic or on a Spring day stroll. A metallic belt adds dimension while still keeping with the general theme of the outfit. If you're afraid of the outfit being too cloying, make sure the blazer (or cardigan or jacket or whatever you choose) is a bit oversized. This look capitalizes on the playful nature of the denim dress while taking it to a more stylish, personalized level.

Things are getting bold-er.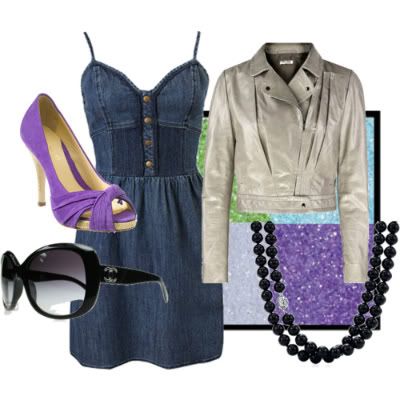 The two other outfits were fairly easy for me to come up with. They're the sort of ensembles that flash through my head when I pick out clothes in the morning. But to come outside of my general aesthetic, I had to give Maura a call. "Have you done something bold yet?" she asked. I replied with the negative, and she gave me guidance in that direction. So here it is - a metallic-y cropped leather jacket and funky, bright heels make for a wearable look that will turn heads. Since the dress itself is fairly casual and neutral, it's easy to dress up with something bold. I threw in the sunglasses and necklace because I have a very overhyped Hollywood visual of this outfit in action, but you can dress it up or down however you please.
Now I'm curious as to your thoughts about the denim dress. Do or don't? How would you make it your own? Let me know. Alrighty. I'm off! Everyone have a gorgeous rest-of-Monday!