I have a lot of clothes. I mean, never enough, but still more than your average bear. Just the same, all of my outfits will consistently follow one of three patterns. Not really on purpose. It's just how I always end up picking my ensemble in the morning. And I think I've got a good basic set-up. Granted I don't Louboutins, or that gorgeous art-deco necklace, but all of this ought to give you a general idea.
The jeans, black sweater, and flats outfit:
The lbd, jean jacket, and riding boots outfit:
The pencil skirt, blousey blouse, and heels outfit: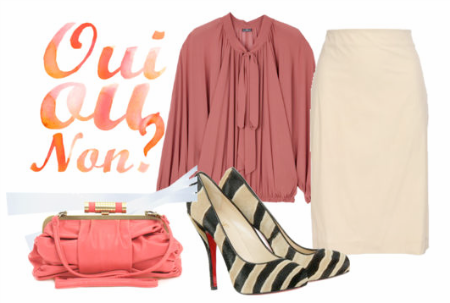 Darling readers, take a look at your wardrobe and consider your usual ensembles. I know Maura usually combines everything to do a skinny jeans, flats, and oversized cardigan combo (v. Alexa Chung), and Helene rocks the mini dresses and high heels on a regular basis. Once you figure out what sort of outfits you tend to create, then you know what to look for shopping. It means no more of that whole buying-things-then-never-wearing-them routine. That's something I can live with.