Here it is my dears, the Powderflage review I've been promising. Now, let me begin by saying that I have a weakness for Benefit. The packaging is perfect and the product names make me insanely happy. It was also the first makeup that I ever really invested in. So keep in mind that I have a slight bias. Now, to the product.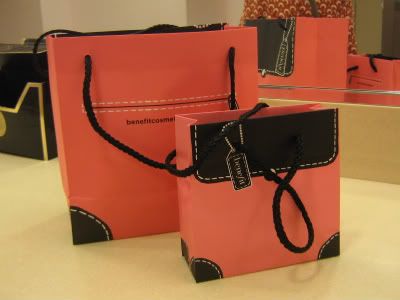 Benefit says that Powderflage is "For camouflaging dark circles & fines lines, powderflage is fast, easy, light & breezy! Virtually weightless, this silky, light pink powder magically camouflages & diffuses." Intriguing, yes? Benefit has a thing for skin brightening. Think about products like High Beam, That Girl, and Eye Bright (a personal favorite). In my experience all three have done the trick. And after testing out Powderflage, my roommate and I discovered that Benefit is staying true to its reputation of making a girl's skin bright and glowing.
That would be Abby, my lovely roommate, modeling the results of her new Benefit makeup on the escalator at Macy's. Granted, the girl is gorgeous without makeup, but just look at the perfection here that is her skin! There is absolutely no dullness, and she is so obviously thrilled with the results. The product really is just as described - silky and weightless. And it does as it promises - camoflauges all the dark lines and diffuses. I'm in love. What about you?