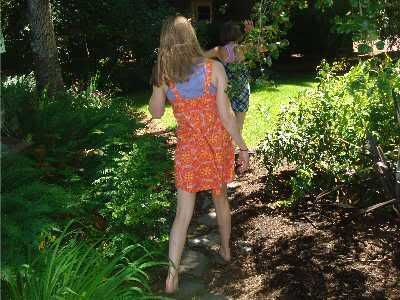 Maura (in the orange) and Helene (in plaid), frolicking.
When I was in kindergarten, I would always get extremely dolled up for school. For the afternoon kindergarten class at Monmouth Elementary School, I was all about the dresses. Recess aside (I had a tendency to chase boys) I would remain well-mannered and composed in my frocks. I couldn't afford to goof off because it would mess up my dress. But when I got home from school, I would change into what my mother called my "play clothes." Overalls and boxy tee-shirts, these were the clothes for playing make-believe and drawing with chalk.
Maura on a home-made swing, posing with the star tree.
Times have changed a little. And it's not because my clothes travel well from day to play (though that is also the case). It's because I don't skip and twirl around the way I used to. And even if I wanted to, my wardrobe wouldn't accommodate my needs to play. If not dresses, I'm in dressy tops and fitted jeans. My shoes are all ballet flats and pumps, and I don't remember the last time my hair was in a ponytail. Well today, no more. I feel like play clothes should make their triumphant return back into my life.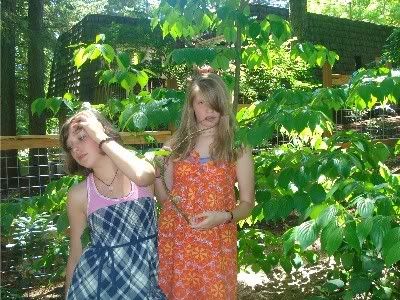 Helene and Maura, posing like "models."
Today I will think twice before sitting at the computer instead of going outside. Today I will consider Levi's more seriously as part of my day-to-day wardrobe. Today breezy tank tops and denim skirts will reign supreme. Because I think it's time I played a little more. And you, too. Let's bring the whimsy back. Now I'm not suggesting we ditch the tailored tidiness of our wardrobe. I just think we should also set aside some outfits for fun. So dig through your closet, grab those old jeans and that graphic tee from Old Navy (don't be embarrassed - we've all got one), and jump through the sprinkler. Because age and fun don't have to have an inverse relationship. Because life didn't stop at 13.
Helene, playing.