I have had some of the most amazing shopping ventures lately. It seems everything everywhere is on sale. I have, in the past week, become the proud owner of three very well-priced summer dresses, each stunning and unique in their own right. I'm wearing one of them, a white dress with a lacy hem and peter pan collar tomorrow. The shoes with which I'll pair it, I know not. But I'm looking forward to figuring it out. Now, if you haven't been near so lucky as I have in the hunt for some summer frocks, check out these sweet little dresses, found at Delia's, Forever21, and Alloy. Enjoy my dears.
The warmest of evenings

You know those summer nights when you just want to walk barefoot through the grass as your friends sit on the patio with sorbet and look for the big dipper? I think this dress was made for that. It feels so ethereal, and playful, and wonderful and all that good gorgeous stuff. I'd suggest pairing it with some simple down-to-earth shoes. And dangly earrings if you feel so inclined. This would also be perfect for throwing over a bathing suit after you've spent the entire day in the water.

Taking it to the park


This is the perfect playful number for when you feel like stepping out with your puppy and strolling through the park. Of course, the blue pumps pictured would make the dress more suitable for a garden party, so look for patent flats if frolicking is on the agenda. I would also wear this dress to a tea party with my best girlfriends. It just has that vibe.

The ever-perfect hostess


Helping your mother pull together a brunch? Then slip on this pretty vintage-looking number and prepare to impress. The pearls, long and layered, will make you look Desperate Housewife, while keeping you from venturing out of Wisteria Lane and into Stepford. Best of all are those mules. Go flat with the shoes, depending on the occasion. If it is a hostess sort of situation, you want to be able to move with ease. But if you're a guest, by all means honey, pump those heels up!

Jane Austen lends a hand


I feel like this dress would leave me perfectly suited to meet my modern-day Mr. Darcy. The colors are so romantic and I feel like it creates a lovely ladylike silhouette. I fully intend to order this one and then demand that the boyfriend and I go on a picnic to utilize this dress's summer date potential. And those shoes. Too cute to be true, right? I also love the necklace. When you want your look to be romantic, pick a necklace that ties the ensemble together, and looks like Liz Bennett could've worn it to a dance. Now go get your summer smooch!

Set sail for sunshine


The cut of this dress just screams for a stroll along the beach and the colors cry of coolness. I for one have never been a sandal girl, but I think these shiny blue footsies offer the perfect alternative. Granted, sand may get in your shoes, but as soon as your feet are aching for a reveal, they're easy to slip off and leave by some driftwood while you chase the tide. The dress itself is very versatile and with the right accessories, could easily leave the sandy shore and head to the boardwalk for a breezy dinner. And if the way this dress flatters makes you look slim and tight isn't love, I don't know what is.

Barbecue in the good times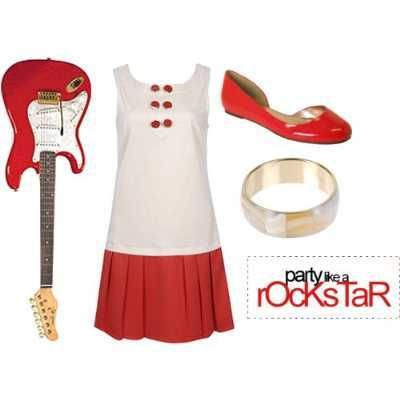 Now you might be thinking that this dress is much better suited for some of the nautica mentioned above, but please darlings. I think we're far beyond being so predictable. I can totally envision this dress at a barbecue, sharing in the smell of ribs and coleslaw. Vegetarians, fear not. It also mixes well with baked tofu and an edemame salad. Find a funky frock if you're looking to make a company picnic a little less dull and match it with bold shoes to cap the look off. Voila! You're a rockstar.


That's concludes today's babbling. Everyone else in my family is fighting for the computer, so I'm off. Until next time, muwah!