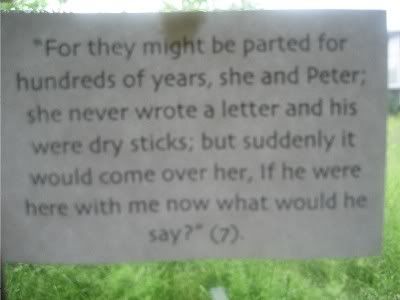 This quote (as seen on the window in my lit class) from "Mrs. Dalloway," one of my all-time favorite books.
♥ The fact that it's summer and the sun has finally decided to join all of us here in Eugene.
♥ The ridiculously pretty pair of earrings that Helene gave me for graduation. I'll post pictures later.
♥ The dress I got for my cousin's wedding next weekend. It's linen, black and white (but not so much white that it's wedding-inappropraite, just a stripe) and makes me feel like Princess Diana.
♥ Going out to lunch with my best girlfriends at Cafe Xenon and splitting an immense Cesar Salad.
♥ Blackberry almond italian sodas, as introduced to me by the attractive barista at local coffee stop Dutch Bros.
♥ The fact that lace is all over the runway right now. I like romance in clothing.
♥ The prospect of a new, nice camera. That's what I've decided my grad money is going to go towards.
♥ The fact that I know who my roomie for Shimer is next school year. We got our assignments, and my future roommate is darling, stylish, and extremely smart. Can't wait!
Now what are you adoring today? Has anyone checked out the new MAC collection? My best friend picked some of the eye shadow in a sea foam green color and she says it's killer.