"In The Heights" took home best musical at the 2008 Tony Awards last night. It was well-deserved, though my heart will always belong to "Xanadu." And hello? "Passing Strange" didn't get anything. And that show in phenomenal! Regardless, the awards for the
real
actors of this world didn't disappoint. And neither did the outfits.
Kristen Chenoweth

I love Ms. Chenoweth as much as the next person, and can you blame me? With her star turn as Glinda in "Wicked" and her darling portrayal of Sally in "You're a Good Man, Charlie Brown," this pint-sized belter leaves little to be desired. Except for maybe a Tony gown that makes her pop. When you're as cute as Kristen, why go black? Still, the girl is classy.

Marisa Tomei


Tomei is beautiful beyond belief. With those eyes and that figure, you really can't go wrong. However, when she walked on stage Maura turns to me and says "Yeah, cause I'd wear a prom dress to the Tony Awards, too." Maura's sarcasm hit the nail right on the head. I feel this is a bit too David's Bridal and not enough couture. What do you think?

Laura Benanti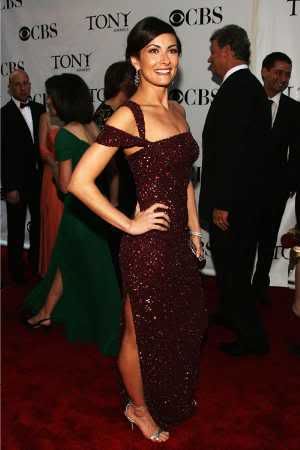 I fell in love with Benanti after she sang "Someday" in "The Wedding Singer." And I want to get to Manhattan as soon as possible so I can see her entertain her audiences in "Gypsy." The girl is talented. And beautiful. And this dress shows all of this off.

Laura Bell Bundy


I love Laura Bell Bundy. Animal prints are a risk, and maybe it's just because I idolize the actress so, but she pulls it off. I happily reflected on Legally Blonde's successful year when the orchestra wrapped the Tony Awards up with "So Much Better." Laura Bell is talented beyond description. And cute to boot.

Kerry Butler


This woman is a genius actress and unbelievably beautiful. And she has no vanity, posing goofily for photos, and moving around stage clumsily with one roller-skate. Do yourself a favor and get the Xanadu soundtrack. If Butler's voice alone doesn't win you over, the score by ELO will.

Idina Menzel


Menzel is a classy woman indeed, and here she twists it with the "boheme" of her musical theater roots. The RENT reunion was fabulous. She and Taye Diggs are adorable. And I don't think I can express my love for Adam Pascall enough.

Daniel Evans


It's a sad, sad day when Rodgers and Hammerstein beat Sondheim. 'Nuff said.


Well I'm off to bake some cookies. I'm reuniting with my IHS class tonight for a summer celebration and it's all about the baked goods. I hope your week has gotten off to a great start. Now, what did you think of the Tony outfits. Let's chat!