So nudes are big this season. Think muted shades that may or may not blend in with your skin. Personally, I'm not the hugest fan. As pale as I am, with my fairly monochromatic facial coloring (my lips are the same color as my cheeks), going into the neutral department leaves me washed out. I dabble in cream, but I won't go much deeper. However, I'm willing to make an exception for this Derek Lam number I discovered on Style.com.
For those of you who share in my plain-skinned plight but still want to rock the nudes, try pumps. Iconic Christian Louboutin has a lovely pair, but it's just a touch out of my price range. Let's admire it anyway...
Drool-worthy, no? Now if you need something a little more affordable, and a little easier to balance in, check out this pair from Chinese Laundry.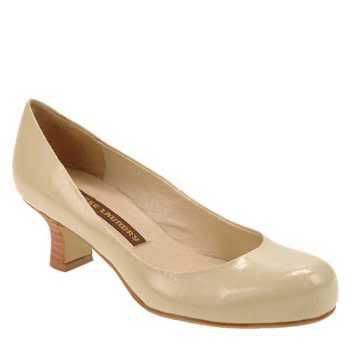 They do cost about $49.99, but I can assure you that Chinese Laundry has never done me wrong when it comes quality footwear. So the cost is worth it. I still encourage you to keep digging and hunting for a fabulous pair that fits your style and budget. Now I'm off to get some iTunes. Love and stuff!